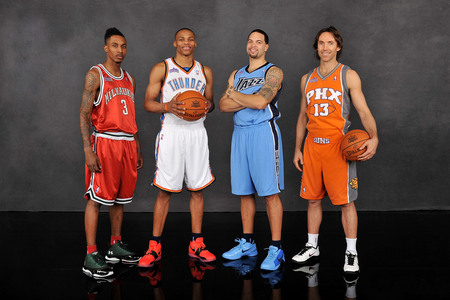 Yeah, I know that's not Chris Paul on the far right, but 3/4s ain't bad.


One Game We Watched Last Night: New Orleans Hornets vs. Oklahoma City Thunder
Hornets: 89, Thunder: 95
And One Game We Couldn't Help But Watch For A Bit Because The Point Guards Are So Good: Milwaukee Bucks vs. Utah Jazz
Bucks: 88, Jazz: 109

Point guards are really all that matter anymore. We've known this for some time now, but every night in the 2010-2011 NBA season is a blinding reminder. When I look at the schedule each afternoon, it reads not as a collection of teams, but a table of point guards. That's why I was surprised yesterday when
Adam picked the Utah-Milwaukee contest as the game we probably wouldn't watch
.
But that's Brandon Jennings against Deron Williams!
I thought to myself. Then I read what Adam actually wrote, only to hear that the Bucks would be decimated by injury, surely leading to them start at least one dude who has no business in a starting line-up (that turned out to be Larry Sanders), and giving relatively big minutes to someone I've never heard of (a person named Jon Brockman played 19 minutes). Still, I couldn't help peeking in a few times to see the two guards hopscotch with one another—and to make sure Deron Williams' hair still looked like it came from
The Fifth Element
future.
The game I did watch from start to finish, though, was a point guard game of chicken. The quickest way to say it is that Russell Westbrook outplayed Chris Paul (not to mention his own teammate Kevin Durant) in the fourth quarter, positioning his team for the win.
The longer way to explain what happened is that the NBA has turned into
Highlander
for the league's best point guards. Each night the top guys try to decapitate whichever guard stands in their way, with the eventual goal of being the final immortal standing. Guys who would have done damage in years past—Jameer Nelson, Raymond Felton, and even Tyreke Evans after what Derrick Rose did to him the other night—look like they've never held a blade before. The 2010-2011 season is the time of The Gathering, folks.
You can tell Chris Paul is not pleased with any of this. He thought he's lobbed off enough heads a few years ago to be considered number one, but an ungodly influx of young new point guards has forced him to polish his blade and start slicing. (Interestingly enough, his sword kind of looks like a huge knee brace now.) Last night his craftiness was one quarter away from besting Westbrook's athleticism, but Westbrook took over in the fourth. No one man should have all
that power
those Cheetos
.